Yuliia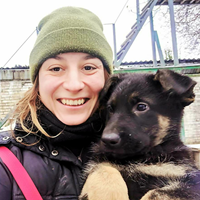 Стокгольм
I recently moved to Sweden from Ukraine.
I'm a dog handler with 7 years experience.

For now I have more the 7 years experience working with both domestic and service dogs. I started work like a dog
trainer for the domeestic dogs from the end of my university education as a part time job. Step by step I developed
amount of skills that give me opportunity work as K9 dog trainer in Ukrainian police. I really love dogs no matter of
size and breed. I always focused during my work with the dogs and do my best so the dog gets positive emotions from
walking, playing or any other interactions with me. I have decent amount of skills for the dog training and behavior
correction.
Betyg och kommentarer
0
Inga betyg ännu...